Thanks to Sushant, who bought a 42 inches HD TV and Tata Sky HD subscription with Star Movies HD, so that I can watch some good Hollywood movies almost everyday. Mostly I watch a movie at 9 pm or/and after 11 pm and anytime I find a good movie running on a holiday.
On weekends I could not watch a movie at 9 pm on Star Movies HD as we watch some reality shows on Hindi channels. And when these programs end at 10 pm, I switch the channel to Star World HD, where a movie starts at 10 pm on Saturdays.
Yesterday after watching KBC when I switched to Star World HD and found that it's showing a black and white scene on the TV. I have never seen Star Movies showing any classic, so I thought it's showing some movie where there is a scene where people are watching a classic film at a theatre. Few minutes later I realised that it's a 4:3 aspect ratio black and white silent movie and must be a classic. I thought "Wow! Star World HD shows a classic this evening". When I watch any Hollywood movie on TV, some of the movies I am aware of and some are not. Sometimes I search it on the Internet or IMDB app on my phone to know about the movie (on Wikipedia or IMDB) and some times I ignore it and try to enjoy the movie without knowing anything about it. I did the latter last evening while watching the movie. By that time I came to know the name of the movie "The Artist".
The story is about a silent movie star, who meets a girl accidentally and helps her to start her career. Then the producer of the studio decides to stop all his silent projects and focuses on talkies. The actor laughs on this idea as he thinks talkies is a fad. He decides to produce and direct his own silent movie as a challenge. At the same time after appearing on some movies as an extra, the girl acts as the lead in a movie, which also releases at the same day as the silent film of the actor. The silent movie becomes a flop and the girl's film becomes super hit. At the same time stock market crashes and the actor gets bankrupted. The girl goes on to become a major Hollywood star. The actor's wife leaves him and he gets ruined. But the girl respects and loves him. When the actor survives from an accident, she takes him to her home and takes care of him. She also blackmails the producer to make a film with her and the actor together, else she will leave his studio and his projects. But the actor feels bad about all these situation and he tried to kill himself with his gun. The girl reaches there in a difficult situation and saves him. Then they make a film together with sound.
Though the movie was a silent movie, there were enough background scores. And in a scene where the actor saws a weird dream after leaving the studio that he can hear all the sounds in his surrounding but can't her his own voice. In that scene there was some sound. And when he starts working with the girl in the talkies, we can her the sound. There was also some sound during a couple of songs.
While watching that movie, I was thinking, if there was background score in the movie, why were they making silent movies? I am yet to search for that answer, but I got a little idea about it after watching this movie.
The story of the movie starts from 1927 and ends around 1932. So, while watching the movie, I was thinking that this movie might be made around 1935-1940.
Today morning when I searched for the movie to know more about it, I was taken aback to know that this movie is made on 2011. I also learned interesting information about the movie from Wikipedia.
The Artist received strongly positive reviews from critics and won many accolades. Dujardin won the Best Actor Award at the 2011 Cannes Film Festival, where the film premiered. The film was nominated for six Golden Globes, the most of any 2011 film, and won three: Best Motion Picture – Musical or Comedy, Best Original Score, and Best Actor – Motion Picture Musical or Comedy for Dujardin. In January 2012, the film was nominated for twelve BAFTAs, also the most of any film from 2011, and won seven, including Best Film, Best Director and Best Original Screenplay for Hazanavicius, and Best Actor for Dujardin.

It was nominated for ten Academy Awards and won five, including Best Picture, Best Director for Hazanavicius, and Best Actor for Dujardin, who was the first French actor ever to win for Best Actor. It was the first French film to ever win Best Picture, and the first mainly silent film to win since 1927's Wings won at the 1st Academy Awards in 1929. It was also the first film presented in the 4:3 aspect ratio to win since 1955's Marty. Additionally, it was the first black-and-white film to win since 1993's Schindler's List, though that film contained limited colour sequences; it was the first 100% black-and-white film to win since 1960's The Apartment.

In France, it was nominated for ten César Awards, winning six, including Best Film, Best Director for Hazanavicius and Best Actressfor Bejo. The Artist became the most awarded French film in history.
Impressive, is not it?
Here is a poster of the movie, I love the photography and poster design.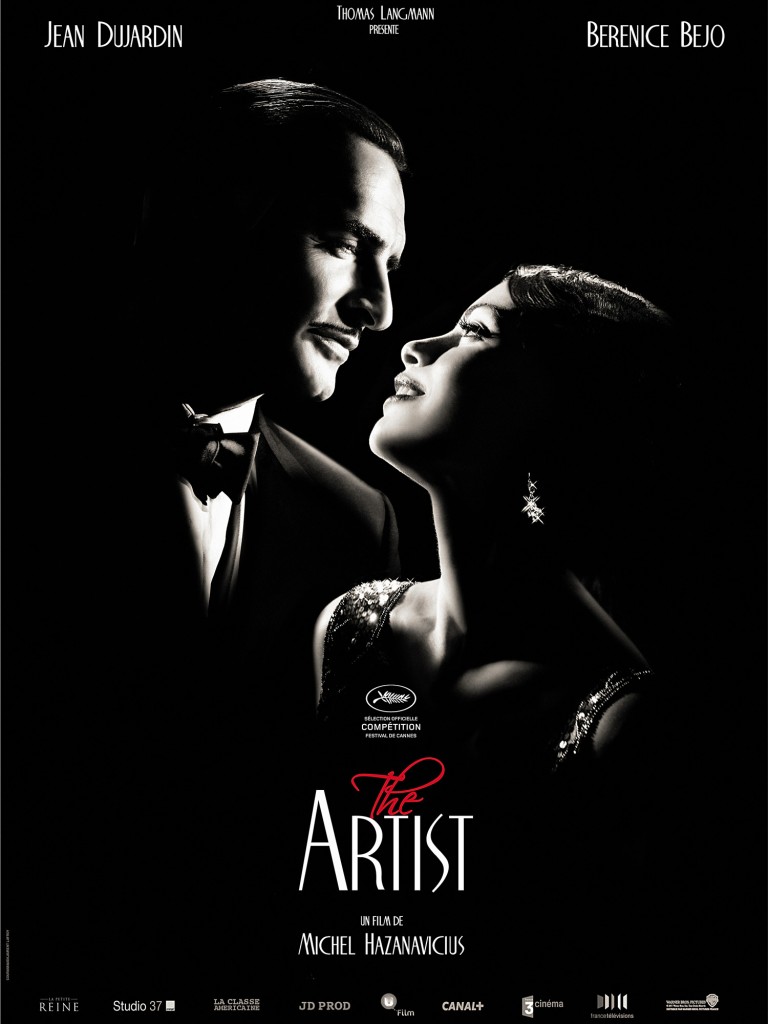 Are you still thinking "Who's That Girl?" and why I named the title of this post like this? Well, I did not find it interesting to name the post "The Artist". Watch the movie (if you can't watch the movie now and want to break the suspense, then read the plot on the Internet) and you will understand.
While searching for the poster of the movie, I found this blog post about the movie. Please read it if you are interested.